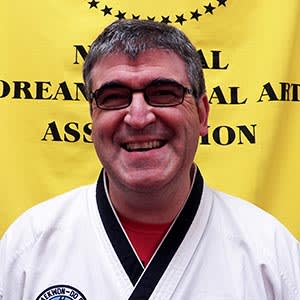 Dr Alberto Barbon
Alberto Barbon immigrated to the United States, from Cuba in 1962 as part of the Pan American freedom flights. He is the youngest of three children. His family moved to Miami, Florida where he grew up and completed most of his education. He left Miami in 1980 to attend medical school in Guadalajara, Mexico doing his third and fourth years of medical clerkships at Chicago hospitals. He completed his Pediatric residency training in the mid-west in affiliation with Wayne State University in Detroit, Michigan. After that, he lived and practiced in the mid-west for over 20 years before returning to Florida.
Dr Barbon has been a resident of Crestview, Florida since 2004, where he practices as a Pediatrician. He has two daughters both going into the medical field. Dr Barbon is very proud of both of them and consider them his best accomplishment.
Dr Barbon wanted to study martial arts all his life but was unable to until he was 16-17 years of age when a good friend invited him to join him at the Judo school he attended. He was hooked from day one attending the Banzai Judo School in Miami under the guidance of sensei Lorenzo Mesa. He continued to practice this art until leaving for medical school. The hiatus ended in 2002 when he took up the art of ITF Tae Kwon Do under the guidance of Master Albert O'Neal. In 2006 he joined Gordon Martial Arts. The rest is history.
Dr Barbon said, "Gordon Martial Arts and Tae Kwon Do have a very positive influence in my life and have helped me get through some rough times and as a result attained a lot of personal growth. I continue to study under the guidance of Master Thomas Gordon and Master Gregory Bledsoe. By teaching at Gordon Martial Arts, I have the opportunity to give back as much, if not more, than what the school has given me. Fortunately, all of my instructors have been a positive influence in my life. I too, want to be a positive influence."
He has never forgotten a saying that caught his eye at the start of his career in the martial arts, which is as follows:
"Welcome to all who are tired of knowing and are willing to learn."
Quick facts:
5th Degree Black Belt in Taekwon-Do (2023)
4th Degree Black Belt in Hapkido (2020)
2nd Degree Black Belt in Combat JuJistu (2018)
Certified GMA Instructor (2011)