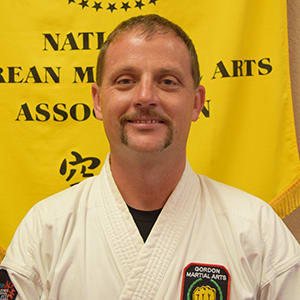 Master Jeremy Morgan
Like so many of today's instructors, it was the Bruce Lee and Chuck Norris movies that interested nine year old Jeremy Morgan and got him into martial arts. He joined a local martial art school called Brother's Martial Arts on Main Street here in Crestview. Brother's Taekwondo opened in 1985 under Grand Master Soon Man Lee (then he was "Master Lee"). Some of the instructors that helped mold Mr Morgan was Mr Simon and Mr Harrel. Three years later, Master Lee left for Virginia and Mr Simon remained his instructor for the next 17 years. He credits Mr Simon with having the biggest impact on his martial art training saying, "…he always took the time to teach me new things whether it was in martial arts or life in general. He was my instructor from the time I started at age 9 until he passed away in 2007."
Training with the adults at Brother's Taekwondo set Mr Morgan up to be extremely competitive at tournaments and allowed him an early maturity for teaching. He's traveled all over the USA to compete with the highlight being the winner at KICK/USA Florid Championships and getting the chance to compete at the "Tiger Claw Elite National Championship" at 2007 Walt Disney World Martial Arts Festival. Some of the techniques he likes to use are the switch kick and spinning hook kick. He started assisting with classes at 15 years old and started teaching at 18 years old. He finally opened his own martial art program which he ran for about 10 years. However, climbing the ranks with his Firefighter/Paramedic career, he found it taking more and more of his time so he joined Gordon Martial Arts (GMA) in 2015 where he could enjoy the time to teach and train without the stresses of running a martial art program.
While wishing to meet Chuck Norris and Bill "Superfoot" Wallace, Mr Morgan finds his father to be his real life hero. "He is no longer with us, but during his time on Earth was always there for his family, especially his children and grandchildren. He sacrificed a lot to make sure we were always successful. He taught me what it meant to be loyal, to be honest, and to have the integrity to standup for what was right no matter the outcome."
Currently Mr Morgan is holds the rank of Fifth Degree in Taekwondo. Outside of martial arts, Mr Morgan spends time with his family, rebuilding classic motorcycles and pretty much anything outdoors i.e. kayaking, hiking, camping, etc. The Morgan family are all very active in their church and a very welcomed addition to the GMA Team!
Quick facts:
5th Degree Black Belt in Taekwon-Do (2018)
2nd Degree Black Belt in Combat JuJistu (2018)
Level 1 Associate Instructor in KravMaga (2023)