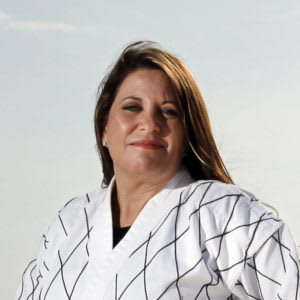 Mrs Barbara Gordon
Barbara Gordon takes care of the behind the scenes with the martial art school. Much of the ads, graphics, and such is from her desk. While it would be nice if a martial art school was simply about teaching martial arts, there's a lot to running a professional martial art studio. People like Ms Barbara ensure we're properly licensed and insured. Basically, Ms Barbara does what most of us loath doing. However, like all the staff at GMA, she's also a martial artist with a first degree black belt in Hapkido and Combat JuJitsu.
Barbara was bringing her daughter to martial arts and stayed to observe a Hapkido class. She saw they were having fun while learning how to put someone in a lock with a swift and seamless move. She wanted to learn those skills to have confidence to defend herself. So in 2011, she began with eight new white belts. In the end, only three persevered as they worked together to earn 1st degree. They became close friends and trained together at the school and even meet to train outside of class building friendships on and off the mat. The neat thing about martial arts is that it can take you all over the world. Scotland, England, Canada, and Amsterdam are some of the countries that martial arts has taken Barbara. In Scotland, her husband Chief Master Thomas Gordon, was teaching a seminar where she assisted and she took part in the weekend seminars in Amsterdam. With Dunnottar Castle in Scotland being the highlight of her travels, she has also enjoyed the martial arts taking her to England, France, and Mexico.
Of all the techniques learned, her favorite technique is the driving shoulder lock with a leg reap.
Barbara is one of ten children and credits her mother as being the most loving, forgiving, and giving person she has known. Takes a strong woman to overcome adversity and obstacles while raising ten children. "I would not be where I am today without my friends and family, the encouragement from my friends, and having the responsibility of my family I had to persevere to overcome obstacles in life and be the best I could be."
Quick facts:
1st Degree Black Belt in Hapkido (2013)
1st Degree Black Belt in Combat JuJistu (2017)