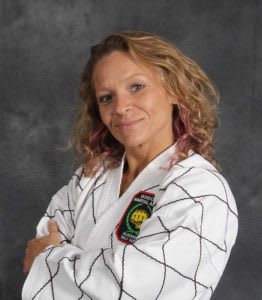 Mrs Mary Young
Mrs. Young came to Gordon Martial Arts in 2012 and their Student Manager and then an instructor. When not in martial arts, she teaches school and avid fitness buff and certified:
Personal Trainer
CrossFit Instructor
Group Fitness Instructor
Certified in and teaches;
Step, Spin, TurboKick, HipHopHustle, BootCamp, Aqua Aerobics, Zumba, Zumbatomic, Zumba Tone, and Body Pump. Mary Young has been working in the fitness field since 2002. Having weighed twice the amount she currently does, from poor eating habits and lack of exercise, she decided enough was enough and started her journey to become a healthy person. She began working at a martial arts school in NC where she started taking classes and training during the day when her two children were in school. When she began teaching Jiu Jitsu to children; she caught the instructor bug bad and began to seek knowledge from everywhere possible. Attending workshops that ranged from senior fitness to youth fitness, nutrition to eating disorders, even prenatal fitness.
In her spare time, Mrs. Young started running. Not just regular marathon running, Ultra Marathons. She runs races with distances up to 100 miles at a time. You might see her running from one end of town to another on a daily basis. When she isn't running or training clients, Mary is teaching at a local elementary school and still teaches at Gordon Martial Arts.
In her previous life as a personal trainer, with her vast knowledge of certifications and workshops, she can meet just about any client's goals, but she especially enjoyed training runners. She helped people who have never run before looking to run their first 5k, to people who are looking to PR at their next marathon. Because Mrs. Young had been at one time an unhealthy individual, she can relate to those trying to lose weight.
September 2019, she made the cover of Totally Taekwondo magazine with a story about "The Little Mary That Could."
Quick facts:
4th Degree Black Belt in Hapkido (2023)
2nd Degree Black Belt in Combat JuJistu (2018)
Level 2 Associate Instructor in KravMaga (2023)
Gulf Coast Martial Arts Tournament 2017 Champion (Adult Black Belt Self Defense)