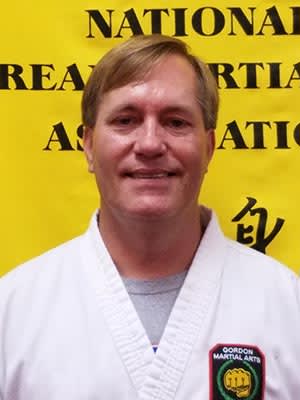 Master Luke West
Mr Luke West is a Fort Walton Beach native who has lived in many places until retiring in Crestview. His first introduction to martial arts was in elementary school when his family moved to New Orleans. In 1985, his family moved back to Fort Walton Beach and he studied at Song Tae Kwon Do until it closed in 1993. It was at Song's TKD where he earned his first degree being the youngest person promoted to black belt by Grand Masters Song. He was also invited to try out for the 1992 Olympic Team.
In 1996, Mr West joined the military as a tactical aircraft Avionics Technician. Stationed overseas in various locations for about 6 of the 20 years and retired from active duty in July 2016.
For martial arts, he prefers the patterns as it's the "art" in martial arts crediting Grand Master Yong Pom Kim, his longtime instructor in Fort Walton Beach, who made me see the beauty of Tae Kwon Do. At the same time likes to focus on self-defense because "this is why we practice." His favorite technique in Taekwon-Do is the spinning back kick.
Outside of martial arts, Mr West is active in Cub Scouts and enjoys history. He has traveled the world with such places as Normandy, Athens, Rome, Vatican City, Paris, and London. Getting to see the Mayan ruins in Peru & Guatemala, dove the coral reefs in Belize & Honduras, and visited an active Buddhist temple in Gunsan City, South Korea. Outside of martial arts, he reflects on his father's teachings that we can overcome extreme difficulties in life and the importance of long-term planning for the future. While his mother taught him the importance of living in the present and enjoying what life has to offer.
Quick facts:
5th Degree Black Belt in Taekwon-Do (2022)
1st Degree Black Belt in Combat JuJistu (2021)
Level 1 Associate Instructor in KravMaga (2023)