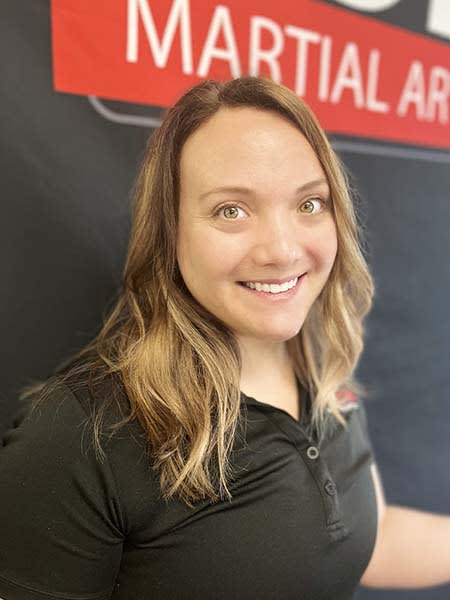 Mrs Liz Farnsworth


Mrs. Liz, Student Manager for Gordon Martial Arts, is originally a Nebraska native. Luckily for us, she found the love of her life, ditched the corn (but not the Cornhuskers), and became a military wife landing her here in sunny Florida.
Before that, Mrs. Liz grew up as an athlete. She was in baseball (as the only female on the team #girlpower,) cheerleading, and she was even on her high school drumline! Unfortunately, just shortly after high school, she was re-ended on her Kawasaki ninja by a drunk driver. This accident crushed her T-12 vertebrae and gave her doctors a run for their money as she died twice on the operating table. Doctors told her that she would have difficulties walking, be unable to have children, and be restricted in her lifting capabilities.
Fast forward to 2019, and in walks the Farnsworth clan to Gordon Martial Arts. Our colors at GMA our black and red, so of course, she loved us; go Big Red! Mrs. Liz learned how to walk again despite her odds and even had two children. She and her children are currently active in Taekwon-Do and combat Jujitsu and are striving to obtain their black belts! We look forward to seeing this happen as she was one of our most dedicated volunteers before Ms. Howard forced her to officially join the team and become our student manager. She has been a valued addition bringing with her a long history of working in the medical field as a Certified Medical Assistant. Her love and care for people shine brightly in our school as she helps make all of our students and their families feel at home.
Besides martial arts, Mrs. Liz enjoys 4 wheelings, go-carts, and shooting clays. Her family loves frequenting our beautiful beaches to soak up the sun and enjoy quality time together. Mrs. Liz also has a profound love of BMWs that she got from her father who used to own a 1987 BMW 325. Both her husband and she currently own BMWs and you can see her husband's car in many of the local car shows.